Never underestimate the power of Mother Nature during the winter months! She can send some pretty harsh conditions our way at the drop of a hat. Like the old saying goes, always hope for the best but prepare for the worst. Therefore, it is important to keep a winter emergency kit in your car. During these cold, snowy months, there many important precautions to take whenever you get behind the wheel. Having the necessary supplies can literally mean the difference between life and death in some cases! You never know when your car might get a punctured tire, run out of fuel, experience a technical or mechanical failure, or even slip off the road. Here are some of the most important items to keep in your car at all times during the winter.

Top winter emergency kit essentials: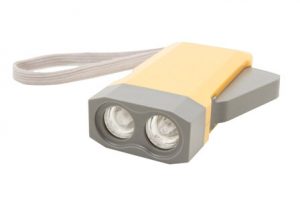 • Flashlight with extra batteries or a hand-crank powered flashlight. Test your flashlight before you pack it and make sure that the spare batteries are in a sealed package to prevent loss of charge.
• Jumper cables should you need to jump start your car or even help somebody else out.
• First Aid kit with band-aids, antiseptic, gauze, adhesive tape, gloves, bandages, etc.
• Bottled water.
• Multi-purpose tool like a Swiss Army Knife or Leatherman.
• Reflective warning triangles and/or road flares.
• Charged mobile phone and power bank for recharging if needed.

Other essential items:
• A small fire extinguisher in the event of a car fire.
• A tire gauge to check the pressure of your tires. Be sure to check the spare too!
• A jack and lug wrench for changing a tire.
• Rags, gloves, and hand cleaner (like baby wipes) to keep your hands warm and clean when performing any mechanical checks or changing a tire.
• Duct tape for all its versatile uses.
• Foam tire sealant for small tire punctures (just to get you from where you are to a tire professional).
• A rain poncho or two.
• Non-perishable, high-energy foods like dried fruit, peanut butter, and granola bars.
• A battery or hand-cranked powered radio.
• Box of matches and a lighter.
• Cash and spare change.
• Paper maps just in case you lose phone signal or you want to save your battery.

Items specific for winter trips:
• Blankets, winter hats, and gloves.
• Ice scraper.
• Folding snow shovel.
• A bag of sand for traction if you get stuck.
• Tow strap and tire chains.
• Hand warmers.
• Sleeping bag(s) for long trips.
• Winter boots for long trips.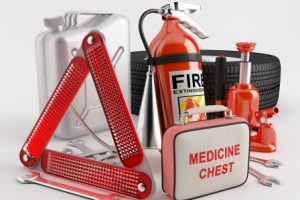 It's important to remember that your winter emergency supplies are not only for your safety, they may end up helping others as well. Not everyone leaves their home prepared. Some people think that just because they are just taking a quick drive to another town they don't need to lug all that stuff along. By being prepared, you could very well be the help a fellow driver desperately needs. Many of the items on this list apply strictly to winter. Once the weather becomes warmer, you will no longer need things like your shovel or sandbags. That being said, it is worth setting aside a special place for these items to be stored during the summer so that they are easy to find when winter comes around again. Each item should be checked and tested before packing it into your vehicle. You should also keep this list handy so that you can refer to it every year. Some items will need to be replaced if they are old or damaged. Some items expire (like your medical supplies). Your fire extinguisher will also need to be inspected by an authorized professional on a regular basis in order to ensure that it still works properly.
Apart from stocking your car with all the necessary emergency supplies, you can take safely one step further by ensuring that your car is covered by the best extended warranty. At A-Protect Warranty, our plans are designed to cater to the individual and to set your mind at ease every time you get behind the wheel. Find out more about our plans by calling 1-866-660-6444.